Technical Article: Oil Pumps
Wayne Simpson writes:
New Oil Pumps Binding on Installation
During a recent chat with Graham Paddock of James Paddock, Ltd., I was alerted to a problem with new oil pumps. If you have bought or installed a new oil pump any time in the last year or so, you should take note.
The Symptom: Brand new oil pumps, either County or AE brand (and perhaps others), bind and fail to spin freely when installed to specified torque settings. This can lead to broken oil pump drive shafts, increased wear on distributor drive gears and idler shaft gears and bearings.
The Problem: Upon initial assembly by the manufacturer, some units have been delivered with the outer (driven) rotor installed backwards, so that a chamfer on one outer edge, intended to face into the housing, instead faces the cover. This prevents the rotor from fully seating into the pump housing and causes it to bind against the cover when installed.
The Solution: Inspect all oil pumps prior to installation. Refer to section 12.60.32 in the Stag Repair Operation Manual for instructions. Remove the two Posidrive screws securing the oil pump cover to the housing. Once the cover is removed, look at the outside edge of the outer rotor. If you see the chamfer facing out, remove the rotor, turn it over and reinstall it so that the chamfer faces the pump housing (see diagram) and away from the pump cover. Reinstall the cover and screws before installing the pump on the engine.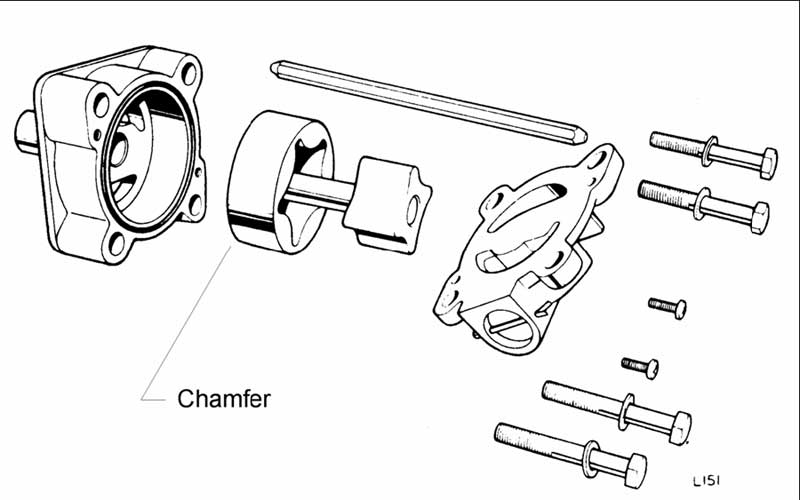 Posted on Sunday, January 15 @ 07:23:13 CST