Technical Article: STAG REAR SUSPENSION
An area of failure on the Stag rear suspension has been known to us for some time, in addition to the two known incidents, my own and Dave Bergquist in CA we have now heard of a third in Australia. The subframe that supports the rear trailing arm (this extends from the pinion nose to the outer rubber body mount ) cracks at the outer end , right at the joint where the support for the body mount is welded to the box member ( see diagram below ). Failure is a fatigue type which means it may have been caused by defective welding when the subframe was first manufactured and progressed over the years. Final separation can occur during even mild driving such as mine did (fortunately in that regard I was doing approx. 30 mph at the time ). Failure causes total loss of support for the trailing arm at the outer end of the subframe which then wants to move rearwards pulling the parking brake cable tight. Failure at speed could be quite exciting , it doesn't want thinking about.
It is easy to examine this area by cleaning all of the grease off the area shown in my sketch below and looking for a hairline crack using an inspection lamp. You can get good enough access to do this other than the top surface however if the three sides are OK I believe it is satisfactory. Mine was successfully MIG welded as a temporary measure until the new one could be installed.
After inquiring with the Stag experts in the UK about this type of failure I was told that it was unheard of including Tony Hart who has raced Stags for a number of years so I put mine down to an aberration, maybe a manufacturing error until I heard of Dave's failure and now this third one. In view of this I would recommend as a matter of due caution you should check your cars to avoid a potentially catastrophic failure should this happen at speed.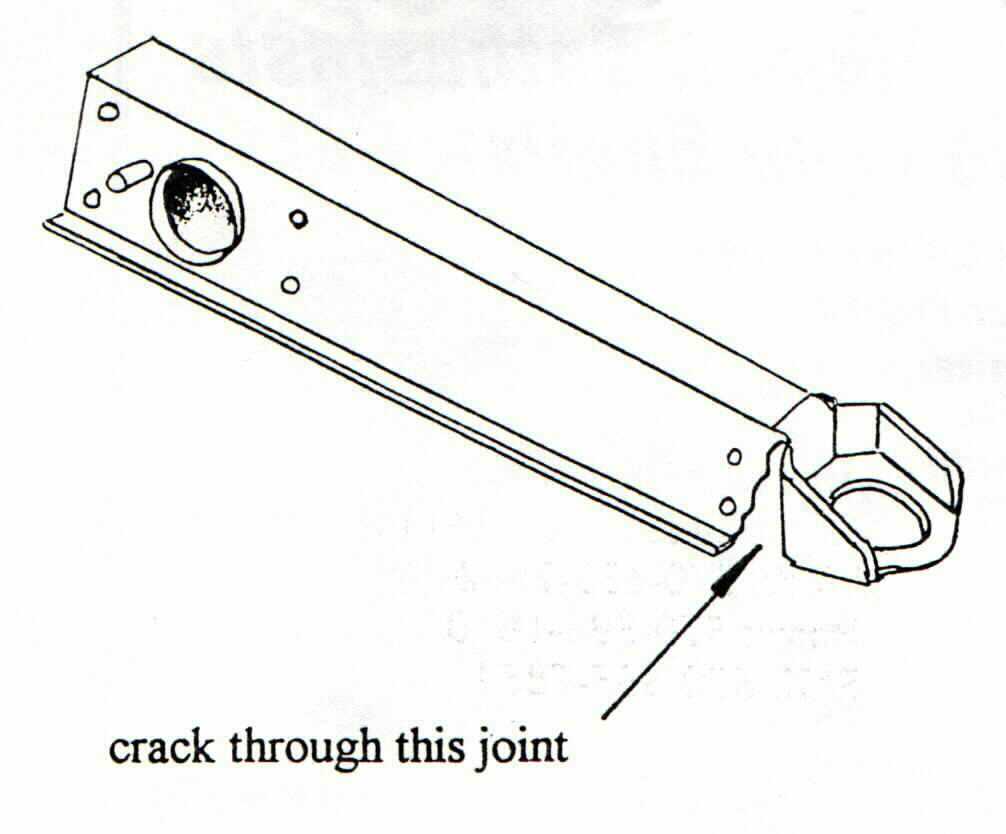 Tony Fox "
Posted on Saturday, March 18 @ 07:24:27 CST by triumph_stag